Sometimes when I start up the windows7 OS, the error message attached would appear.
And 1password extension for Chrome could not be use when I click the icon of 1password.
Unknown pulldown list would appear.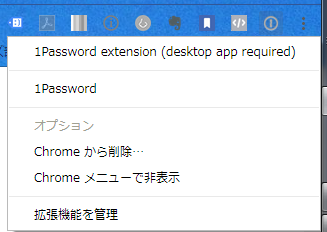 Not always, but sometimes. And when I couldn't use 1password, I did uninstall and reinstall the extention, but it couldn't work.
However, I could use the extension for Firefox simultaneously.
I think the browser extension for chrome has something wrong.
But I couldn't find logs.
How can I use the extension for Chrome when I encounter the situation like that?
Rin
---
1Password Version: 6.8.534
Extension Version: 4.7.0.90
OS Version: Windows7
Sync Type: Not Provided
Referrer: forum-search:windows extension