This is a bit of a weird one. For some reason, I can create a tag called "security", but I can not create nested tags under "security". I have a secure note that I am using a temp entry. If you recall, I had trouble before with the order of required steps to make nested tags. This is my process order:
Step 1, I added the tag "security" to a single secure note. I verified the tag was created in the left panel, it's there, I can see it. Now I'm ready to nest other tags.
Step 2, attempt to add a nested tag to 30 different entries in one bulk action. I select all 30 entries, right click, select tags, scroll to bottom of the tag window, type "security/secretanswer". This category is made, but instead of having "secretanswer" nested under "security", it is at same level in tree.
Could you test this on your end and see if you can replicate? Tonight I recreated the old 1PW4 folders and replaced existing tag groups using a nested "category" tag, and I had no problem. I thought I was comfortable with this aspect of the new app version. For some reason when attempting this, I am just not able to make nesting work with the words "security" and "secretanswer".
See attached screen print. You can see I was able to do nested tags under "problem" no problems. After spending 15 minutes writing this up a second idea occurred. Maybe the issue is that I'm trying to nest 30 entries at once?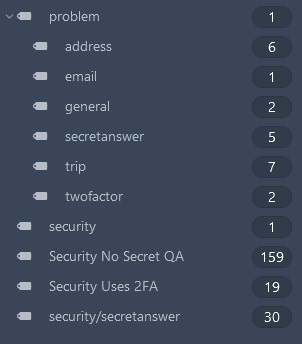 ---
1Password Version: 1Password 7.0.541
Extension Version: Not Provided
OS Version: Winn8.1
Sync Type: Dropbox